2018 chip sales were up 13.7% on 2017 at a record $468.8 billion, says the SIA.
December sales were $38.2 billion, up 0.6% on December 2017, but down 7% on November 2018.
Q4 sales of $114.7 billion were 0.6% higher than Q4 2017 but 8.2% less than Q3 2018.
"Global demand for semiconductors reached a new high in 2018, with annual sales hitting a high-water mark and total units shipped topping 1 trillion for the first time," says SIA CEO John Neuffer,  "market growth slowed during the second half of 2018, but the long-term outlook remains strong."
Several semiconductor product segments stood out in 2018.
Memory was the largest semiconductor category by sales with $158.0 billion in 2018, and the fastest growing, with sales increasing 27.4%. DRAM increased 36.4% and flash increased 14.8%.
Logic ($109.3 billion) and micro-ICs ($67.2 billion) – a category that includes microprocessors – rounded out the top three product categories in terms of total sales.
Other fast-growing product categories in 2018 included power transistors (14.4%growth/total sales of $14.4 billion) and analog products (10.8%  growth/total sales of $58.8 billion).
Even without sales of memory products, sales of all other products combined increased by nearly 8% in 2018.
Annual sales increased substantially across all regions: China (20.5%), the Americas (16.4%), Europe (12.1%), Japan (9.2 percent), and Asia Pacific/All Other (6.1%).
For the month of December 2018, year-to-year sales increased in China (5.8%), Europe (2.8%), and Japan (2.3%), but fell in Asia Pacific/All Other (-0.7%) and the Americas (-6.2%).
Sales in December 2018 were down compared to November 2018 across all regions: Japan (-2.2%), Asia Pacific/All Other (-3.1%), Europe (-4.9%), China (-8.1%), and the Americas (-12.4%).
"We urge Congress and the Trump Administration to enact polices in 2019 that promote continued growth and innovation, including robust investments for basic scientific research, long-overdue high-skilled immigration reforms, and initiatives that promote free and open trade, such as the U.S.-Mexico-Canada Agreement (USMCA),"adds Neuffer.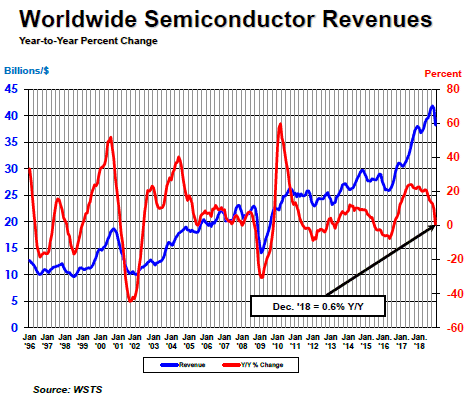 Source: electronicsweekly