Many Nigerians could not stop talking after the video of a vehicle made in Nigeria went viral online. Called the Nord Tank, Ajayi Oluwatobi, the CEO of the manufacturing company, talked about the automobile. In his tweet on Tuesday, August 18, he said that the vehicle was specially built for Nigerians. In the short clip, the camera panned around it to give people a tour of its exterior view.
The automobile is painted in both blue and white colours with its bumper in the former's paint colour. Its insignia is in silver steel.
Read people's reactions below:
@AyoOyalawo said: "This looks good. I love this made in Nigeria stuff. Please let us see how we can push this further"
@INTERMIDIARY_NG said: "It looks good but is it affordable for the average Nigerians? No average Nigerian will want to spend 6 to 8Million on a made in Nigerian Car; they will rather drive a Tokubo car that is foreign brand. That's the true situation in our nation."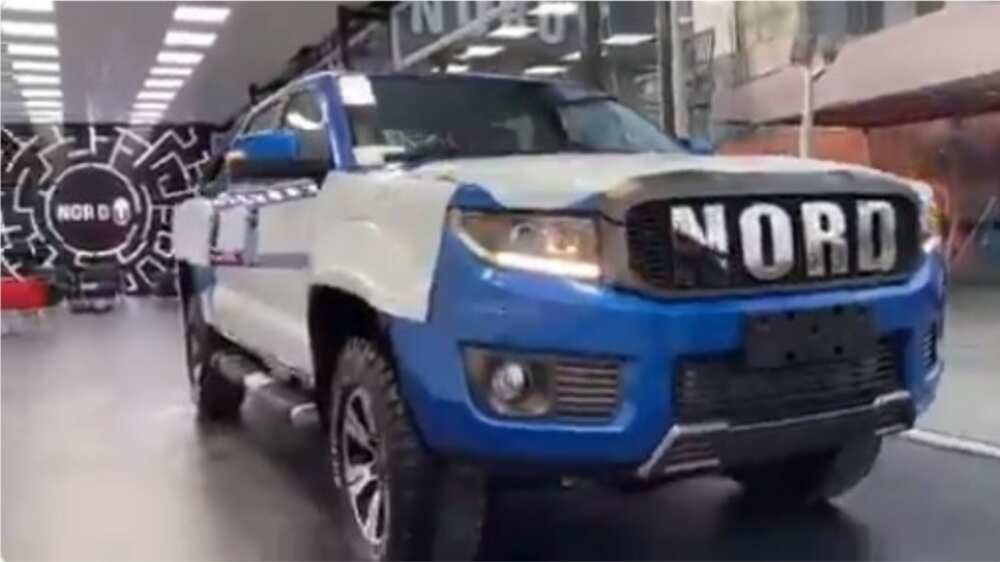 A picture showing the car. Photo source: Ajayi Oluwatobi
Source: Twitter
@Ousteeen said: "Saw this Truck parked in front of Oando fuel station, Sangotedo Ajah, on Saturday with my bro… We both marveled at the beauty and its very strong durable looks… Didn't know it was made in Naija for Nigerians. Great work team @nordmotion, Value will always win."
According to @Bobbyk73040633, the car makes sense.
@dashlyshair said: "I'm not ready to own a car, but I am happy for Nigeria. We are finally getting there."
Meanwhile, we earlier reported that Nigeria seems to have finally caught up with the latest automobile trend as an indigenous company called JET Motor Company manufactured the nation's first electric vehicle called JET EV.
The prototype of the machine was taken on a 300km test drive from Lagos to Benin. Before the test drive, the manufacturer already got a fund backing of $9 million (N3,487,500,000) backing from Canadian-based Africa Development Capital.
It should be noted that the company was founded in 2017 and two years after started an automobile series called the JET Mover which consists of fine customizable mini-buses.
The company's director of sales and marketing, Rupani Sanjay, said that the buses can be customized into whatever purpose like a tour bus, cargo, medical, school bus, etc.
I want to build a television set -13-yr-old aspiring engineer
Source: Legit
Total Views: 47 ,