Across the world, advancements in rail are taking shape in many ways. And while countries such as Japan are chasing the fastest trains to date state-owned services in Europe have set their sights on developing a truly digital train. Bhoopathi Rapolu, head of analytics, EMEA at Cyient discusses the concept of digital trains
R

evolution is rife across the global rail industry, and technology upgrades are being implemented in a multitude of ways, to make train travel easier and more pleasurable for passengers. For instance, Germany's Deutsche Bahn recently unveiled plans for a new train called the 'Ideenzug' or Idea Train, which will be equipped with a fitness studio, exercise bikes and spaces with gaming consoles and noise-cancelling chairs for onboard entertainment.Elsewhere, Swedish rail company SJ began trialling biometric chip implants last year as a replacement for paper train tickets. Passengers could have a microchip implanted in their hand which uses near field communications (NFC) to display their ticket information when scanned by a conductor. These concepts are very much in the early stages but give us a clear indication of innovations the rail industry is aspiring to, and the possible applications of technology.
It will enable operators to generate information about previously unseen elements of the rail journey
Unified intelligence system
Unlike mechanical trains that deteriorate over time, software is not limited by degradation in the same way. There are major advantages to converting railways' physical systems into digital ones. For a start, less human input is required because automation can be built into the systems, and decisions can be automated for the scheduling of crew and maintenance engineers in real-time, as well as spare parts planning.The ability to adapt continuously through software enables the sector to respond to new developments quickly, bringing the rollout of widespread driverless trains closer to a reality. Nevertheless, the security implications of increased connectivity and greater exposure to cyber threats must not be overlooked in the creation of such a digital system.The method for designing these systems is a crucial element of creating a digital train – each one must be designed in a way that it can be monitored and controlled remotely to be fully unified. The digitalisation of rail is creating data that has the potential to revolutionise how the sector operates. It will enable operators to generate information about previously unseen elements of the rail journey, providing a holistic picture of every part of the trip taken by train.

The data architecture must also include the necessary information to warrant a truly data-driven train and unified intelligence system. Protecting the information through encryption and firewalls is equally important to ensure it is not intercepted during transit and to maintain safe control of running services.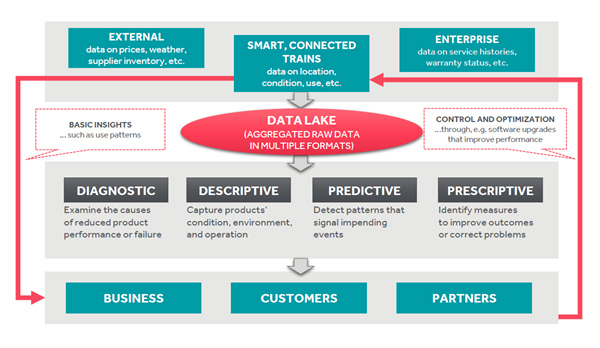 Improving operator-traveller relationships
Passenger safety is hugely improved when the train journey is digitalised, and embedded intelligence enables a preventative approach to train maintenance. For example, the Internet of Things (IoT) for rail maintenance creates multiple data collection points to give real-time information on the health of the train or track. If a mechanical part on a train starts to show signs of deterioration, sensors can pick this up and engineers automatically alerted to run checks on the component to determine whether it needs repairing or replacing.In practice, this has the potential to improve relationships between travellers and operators because emerging operational issues are able to be fixed or reported long before they start affecting performance. The system can also provide dynamic routing and configuration to re-direct trains if there is a faulty track on their pre-planned route.Worldwide, countries must create a standard for the rail network to ensure passenger safety and security is put first. In Japan, for example, trains have a good reputation for their speed, precision and safety. Therefore, operators must strive to meet a high reliability standard and demonstrate they are fully committed to it.

A big part of reliability and safety must also fall to manufacturers. The technology to enable a unified system exists, so the value for money it offers is an important element of getting operator buy-in. Demand and willingness to pay for the features offered by manufacturers will be a key factor in driving greater adoption of the digital train.
Operators should focus on addressing the passenger experience before personal infotainment systems
Understanding the passenger experience
Every day, consumers put their trust in operators to keep them safe on train journeys. The capability to tailor services to individuals during travel has increased; however, it is evident that passengers are still more concerned about the safety and reliability of services than personalisation.Therefore, operators should focus on addressing the passenger experience before developing personal infotainment systems. For example, the 'connected navigation' aspect of the digital train provides information on journey planning and helps train drivers and operators react to route changes, live weather conditions, traffic and offers real-time simulation of delays. This means that during times of travel and planning, ticketing and passenger information systems can also be updated in real-time through a fully unified railway intelligence system.Automating this part of the service means passenger assistance and alerts are given more often and with greater accuracy. It also puts less pressure on rail staff to keep passengers up-to-date with delays or alterations to services by providing direct communication during their journey. Updates on the status of trains and potential delays could also be supplemented with advice on alternative routes by using the data available across railway services.

The technology behind embedded intelligence enables automated systems to make intelligent, data-driven decisions. These may include advising passengers to avoid certain facilities, for example, a specific door or toilet not in service, and informing what other facilities are available.
Edge computing offers a viable solution for the anticipated connectivity pressures
Data challenges of the digital train
The cloud is a potential solution for collecting and analysing data produced from multiple sensors on trains and tracks, but the quantity of information being collected from thousands of sensors in different locations adds a significant pressure.To address this, operators are starting to use edge computing, which provides a faster and more cost-effective way to collect and analyse data in real-time, giving rail workers access to consistently up-to-date insights and faster decision-making, which is often automated.Of course, completing the architecture and data collection avenues behind the digital train is only one part of the equation. Until there are industry standards in place around the interoperability between devices and sensors, the digital train cannot be realised. Edge computing offers a viable solution for the anticipated connectivity pressures, but the lack of security protocols in place to protect the unified intelligence system from cyberattacks is holding the industry back.

Industry standards must be shaped before rail operators can start implementing elements of the digital train. However, by sharing knowledge and best practices between governments and operators from different countries, we can all move towards a safer, connected train journey together.

Source: rail.nridigital
Total Views: 12 ,