ST is aiming at compliant 3 phase watt meters with an evaluation kit built around the STPMS2 double channel 24bit second-order ΣΔ modulator.
Called EVALSTPM-3PHISO, it measures through a voltage divider and current shunt for each phase. "Sensing circuitry and PCB layout are optimised to maximise signal-to-noise ratio for accuracy," said the company. The STPMS2 oversamples signals using a 4MHz clock and outputs voltage and current sigma-delta bit-streams, multiplexed on the same pin."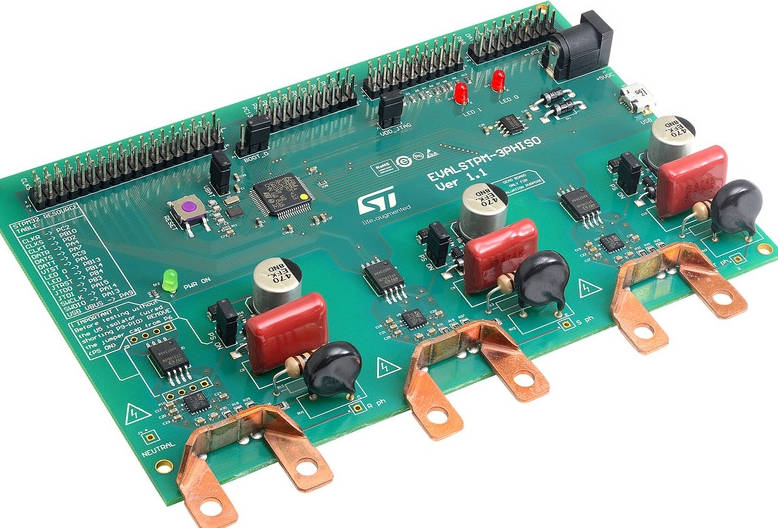 6kV galvanic isolation (up to 100Mbit/s and <3ns distortion) between ADC and host microcontroller is provided by the company's STISO621W chip, which uses inductive transfer internally. Measurement bandwidth is 5kHz. Creepage and clearance are 8mm.
The host is a STM32F413RH (Arm Cortex-M4), which includes a filtering peripheral called DFSDM (digital filter for sigma-delta modulators) for which firmware is provided to convert the six bit-streams into 24bit voltage and current data at a 200μs rate – all metrology parameters are computed in real-time at that rate. Active wideband, active fundamental, reactive and apparent power/energy calculation for each phase and cumulative
A virtual com port is implemented through which to: read metrology data, modify the internal configuration and calibrate the board – amplitude, power offset and samples offset for DC measurement is available through the latter.
Accuracy is Class 0.5 according to IEC 62053-22 on 3-ph active-apparent power measurement and Class 1 to IEC 62053-21 on 3-phase reactive power.
The EVALSTPM-3PHISO product page is here. Brevity is taken too seriously in the associated data brief – fingers crossed for more in Rev 2 as the shunts look interesting.
Source: electronicsweekly