Dr Carol Marsh OBE – the Deputy Head of Electronics Engineering at the aerospace company Leonardo – has been selected by members of the Institution of Engineering and Technology's (IET) Council to chair the organisation.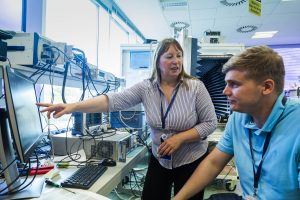 The decision makes her the first female Chair of the IET in its 150-year history.
Her tenure will run until 30 September 2022 and she says she will focus on connecting with existing engineering talent, while raising awareness of the dynamic role the future generation can play by becoming engineers.
She has promoted scholarships for women who wouldn't have otherwise been able study engineering and she says will be encouraging both experienced and newly qualified engineers to become professionally registered with the IET as a route to career progression.
"I was lucky, my parents encouraged my interest in engineering," said Marsh. "I want to ensure that children from all different backgrounds gain access to tools and information that will help them realise their potential and that's what the IET will be able to provide. Engineers are such an important part of our country's industry, so they should be given all the resources they need to reach their full professional development."
As well as her role as Chair, Dr Marsh has also been selected by the Institution to become their first female Chair of the Engineering Policy Group Scotland (EPGS) this month.
EPGS, which forms part of the IET, acts as a two-way link between the engineering profession and the Scottish Government. The EPGS comprises senior members from Scottish industry, academia and professional organisations engaged with Scottish issues.
Background
Carol graduated with a HND in Electrical and Electronic Engineering from Edinburgh Napier University in 1985, where she is now a Visiting Professor in the School of Engineering and the Built Environment.
She was also awarded a degree of Doctor of Engineering in System Level Integration from the Universities of Glasgow, Edinburgh, Heriot-Watt and Strathclyde in 2011
In 2020 Carol was awarded an OBE for Diversity and Inclusion in Electronic Engineering.
source: electronicweekly