Innovation does not always follow clear patterns; sometimes it's as simple as finding the problem and providing the solution. Other times, it involves leveraging a policy loophole or going through several regulatory requirements.
In 2017, Nigerian mobility company, Metro African Xpress (MAX), leveraged such a loophole – the fact that bikes with engine capacities of 200ccs and above were allowed to ride on Lagos highways – and launched the first motorcycle-hailing service in the country.
Gokada and ORide shortly followed, but the thriving industry came to a grinding halt when the government decided that motorcycles were not part of their plans for a megacity.
Nigeria's Securities and Exchange Commission (SEC) also came up with new crowdfunding regulations that baffled several players in the sector. There was also one small issue with NIPOST for logistics companies nationwide.
At the 26th edition of the National Economic Summit (NES), Chidi Ajaere, Chairman of GIG Group, the parent company of mobility heavyweights like GIG Mobility and GIG Logistics, argued that policy somersaults are counterproductive to business and local investment.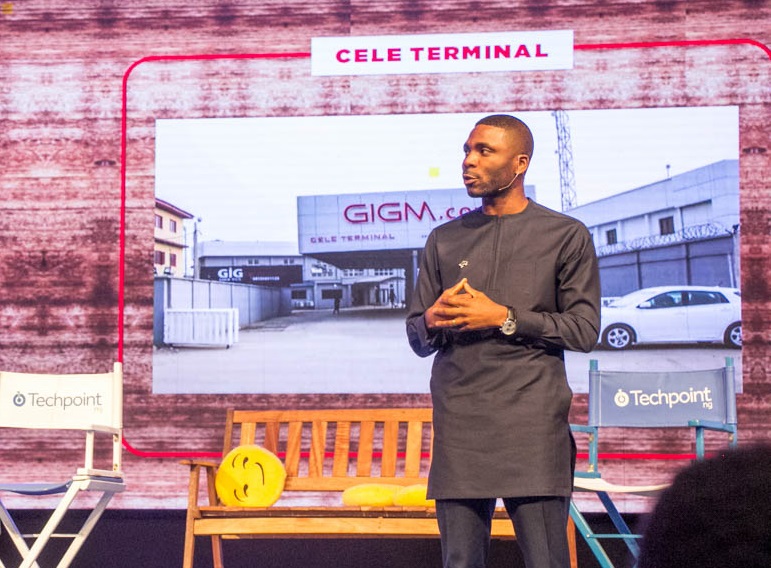 He referenced the government's recent plan to reduce import duties on vehicles from 35% to 5% as one of such policy somersaults that could have untold consequences for local vehicle manufacturers in the country.
"Businesses can only be as great as the government allows them to be," he said.
The NES is a private sector-led think-tank and policy advocacy group first convened by the Nigerian Economic Summit Group (NESG) in 1996. Since then it has become an impactful solid convergence point for economic stakeholders and policymakers in the country.
Irregularities across different regions
Chidi Ajaere also affirmed that transport companies are made to pay different exorbitant fees in most states which they're in operation. All these while navigating bad roads.
"Sometimes, the cost of repairing damages to vehicles from bad roads could be more than the money realised from those trips," he later told Techpoint Africa in a follow-up interview.
Besides policy somersaults, each state and local government in Nigeria has peculiar regulations that could either make or mar businesses. A scenario telecom companies (Telcos) and Internet Service Providers (ISPs) are familiar with in their struggles with right-of-way charges and vandalism.
Governor of Ekiti State, Kayode Fayemi and another panellist at Ajaere's session were quick to point out this scenario, as well as scarce engagement at the federal level, and how it has affected businesses. He, however, insisted that the Nigerian Governors Forum has been working hard at making such engagements possible.
Recall that the National Economic Council, which consists of the 36 state governors, the Governor of the Central Bank of Nigeria and other co-opted government officials, resolved to slash right-of-way fees for telecom companies.
Ekiti State then set the ball rolling and, following this, we can confirm that seven states have either slashed or zero-rated right of way fees. However, several other states are still to implement the NEC's resolution.
Lagos, in particular, decided to tow a different route by embarking on a dig-once unified fibre project which it promised would eliminate the need for telcos and ISPs to pay right-of-way fees and enable smaller players easier entry into the sector.
A clarion call for the youth
Despite all the policy engagement in various industries, a clear thought gap persists between the innovators in Nigeria's startup ecosystem and policymakers. While this has driven a lot of innovation, it has also resulted in casualties as listed above.
Painfully enough, actual casualties were recorded during the #EndSARS protest.
At Techpoint Build 2020, Google Policy Lead, Titi Akinsanmi argued that better outcomes could be realised from government policies if those in power are proactively engaged.
Kayode Adegbola, Lead Partner at Golborne Road Advisory echoed the same sentiment right after the Okada ban.
Interestingly, evidence of such proactive engagement could be noticed when Ekiti State partnered with MAX.ng to digitise its informal transport sector.
Representing both the business world and Nigeria's young population, Chidi Ajaere pushed this sentiment even further at the NES Summit. He believes that more young people should be part of the conversations on policies that affect them and not just watching from a distance.
"Some of the people in power have never run or managed businesses of up to 100 people before, they have never faced the kind of crisis we've faced in business. So when they're faced with a crisis, they don't even know what to do. They just got into power because they're loyal to one or two higher-ups.
"But we have youth building enterprises and capacity and they need to be involved in our narrative," he argues.
"One thing I realised when I had a meeting with Obaseki (Governor of Edo State), Waziri Tambuwal (Governor of Sokoto State) and Fayemi after the conference, was that these guys need to see more youth building capacity so that they can respect them and bring them into relevant conversations," he adds.
At the heat of the #EndSARS protest, several youth led organisations helped facilitate a lot of activities to widespread acclaim.
As Iyin Aboyeji, Founder of Future Africa puts it, the government and established institutions have to forgo the cliche of "he's just a small boy" and begin to engage with young tech entrepreneurs on more solid grounds of what they bring to the table.
According to Ajaere, this will not just greatly reduce a lot of the policy somersaults that end up adversely affecting the good work being done by the youth, but also spur an innovative approach to policymaking in Nigeria.
After the conference, Governor Fayemi, who is also the chairman of the Nigerian Governors Forum, made a commitment to get all governors to harmonise road transport taxes and engage the government on the recent reduction of import duties on vehicles.
Considering the events of the past few months, Nigerian tech entrepreneurs might probably have to move beyond engagement to become an active part of the decision-making process in Nigeria.
Source: Techpoint
Total Views: 58 ,