Palms clammy with fear, nails digging into the harness, you come to a grinding halt and inhale sharply before the carriage creeps slowly upwards. A pause. Then a sharp drop and your stomach is suspended in the air. Teeth gritted, you hurtle quickly forwards, sharply left, then upside down. Your senses a blur, you let out roar of fear that comes from the pit of your gut. But you only have yourself to blame: after all, like hundreds of millions of others each year, you paid to get into this theme park.
Somewhat bafflingly, amusement parks with hair-raising rides to pull in crowds are a huge industry. To deliver the thrills and ultimate-escape-from-reality that guests seek, behind the scenes there are huge teams of highly inventive, and arguably a little sadistic, structural, mechanical, industrial and electrical engineers, as well as designers and marketing experts. And now one of them is about to be promoted. Merlin Entertainments, the company behind some of the UK's most popular attractions, is currently hiring a "creative magic maker" to think up new rides and attractions at resorts including Britain's Alton Towers and Thorpe Park, and Gardaland in Italy. The perfect candidate, says Merlin, needs a big imagination to dream up groundbreaking new rides.
"Roller-coaster designer" sounds like the career aspiration of a primary school child when asked what they want to be when they grow up. In reality, it's a big challenge: not just creating the perfect balance of pleasure and fear while ensuring that the G-force exerted on passengers doesn't make their eyes pop out; but also introducing enough novelty to keep punters wanting more – which involves heavy doses of illusions and theatrics.
For, while the layperson may imagine that roller coasters have become ever more intense, in fact most of the techniques used today – including the wheel that allows rides to go upside-down – were invented by the US designer John Miller in the early 20th century. In his pre-regulation "golden age", the extremities of roller-coasting were explored – to the discomfort of passengers exposed to G forces that made their noses bleed – but now creators are limited to the track designs offered by specialist ride manufacturers.
They're a bit like Scalextrics sets today, says Professor Brendan Walker, a "thrill engineer" with a background in aeronautics and art who runs the Aerial design practice. "The artistry," he says, "is in compiling the pieces." And what that means, says Dr John Roberts, the executive director of operations at Jacobs Engineering and a fellow of the Royal Academy of Engineering, is "swapping very rapidly between plus and minus, so people get the sense of being sort of thrown around but kept safe. It's a very fine line between people feeling the ride is thrilling and that they've been bumped around."
In the search for superlative rides, the teams behind roller coasters must piece together a narrative, be it a space adventure or a high-paced chase in the jungle, that works with any innovations – the tallest ride, the most twists, the steepest drops, to create a seamless experience. "It's not just about the coasters themselves now," says Jeff Hornick, the senior director of theme park development at SeaWorld Parks and Entertainment, which oversees BuschGardens and Adventure Island in the US.
Most recently, he worked on the Mako at SeaWorld Orlando. On this "hypercoaster", based on one of the ocean's fastest sharks, riders experience many moments of weightlessness, and reach speeds of up to 73mph from a top height of 200ft. But, he says, "the queue lines, shops and restaurants that surround each ride are themed and meticulously designed in a certain way to give an all-round, immersive experience for guests. Every part plays an element, from the sounds you hear to the lighting effects".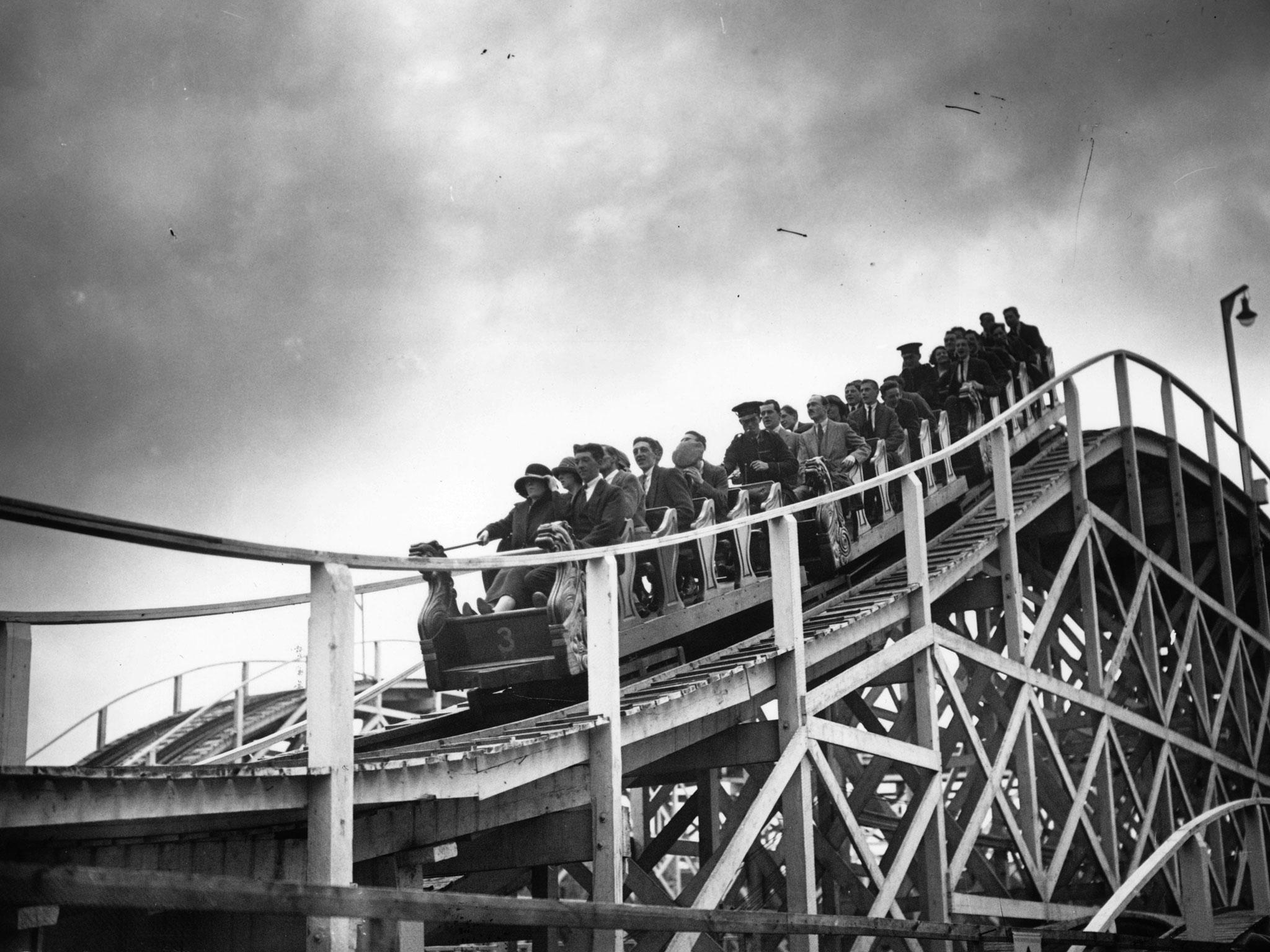 Surely, though, as technology has transformed industry after industry, Merlin's new roller-coaster designer will have to embrace the latest advances, such as the virtual reality headsets recently tested by Samsung which, synched with the movements of rides, enabled theme park guests to fly with UFOs and zoom through Metropolis with Superman. Could stationary virtual reality headsets and rides that are plugged into the visceral responses of riders be the future?
Walker – who created Neurosis, an experiment involving the world's first brain-controlled thrill ride that adjusted to the emotions of riders – says we shouldn't hold our breath. "People are fascinated about how their bodies work, and rides using that technology could be a new theme, but it's a bit of bottle neck," he says. Such tailored experiences are currently only viable for single riders – which is boring for theme park guests and a hard-sell for operators. "Virtual reality can add a veneer, but only in the way that an old fashioned roller coaster was fantastically painted," he says. "New technology comes very quickly, and the parks are very quick to embrace it because it is exciting and can add to ride experience. But underpinning that is the physical coaster experience, and I think that will remain king for centuries."